These Filmmaking Podcasts Will Change the Way You Make Movies
If you're not listening to these great filmmaking podcasts, you're seriously missing out.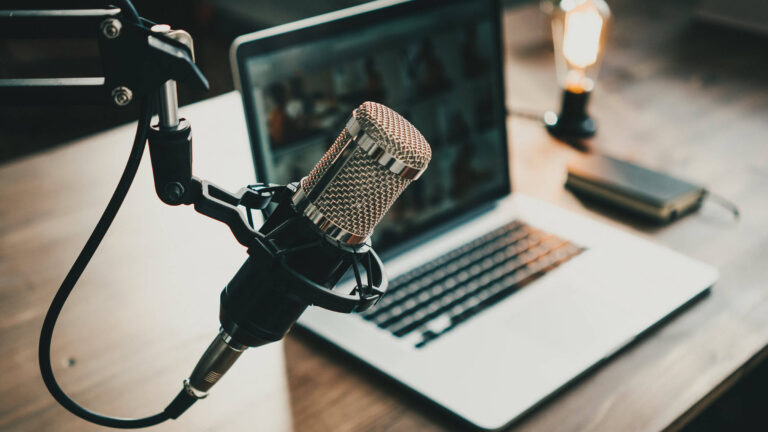 Whether you're looking for inspiration, motivation, helpful resources, or simply behind-the-scenes stories from your favorite films, look no further than the wonderful world of film and filmmaking podcasts.
Don't know where to start? Check out these shows below for the best audio content out there; from how to translate your script to a production schedule, to what parts of himself Michael B. Jordan sees in Adonis Creed.
Happy listening!
Want to get your film made? Enter the ScreenCraft Film Fund to get up to $30,000!
Who's It For?
Anyone who loves prestige indie and mainstream art films.
Hosted By
No hosts! Actors and filmmakers interview each other each week; think Variety's series "Actors on Actors".
What's It About?
In addition to prestige films, A24 also produces this top-notch filmmaking podcast. Expect interviews from today's best filmmakers and most enthralling performers, as they offer insight into behind-the-scenes details from most if not all of the best, most lauded films in production today.
Who's It For?
Industry insiders and anyone who knows Angela Bassett did the thing.
Hosted By
Scott Feinberg - Executive Editor, Awards, The Hollywood Reporter
What's It About?
On this show, produced by the leading industry trade magazine, The Hollywood Reporter, esteemed critic Scott Feinberg's vast knowledge of filmmaking, filmmakers, and film history is on full display. Each week Feinberg and other leading entertainment journalists interview the most masterful and celebrated filmmakers of our time, in their race for the industry's top honors. (Previously only produced during awards season, due to this show's success, you can now tune in weekly for interviews and discussion from prominent artists and critics!)
Who's It For?
Screenwriters, aspiring screenwriters, screenwriting enthusiasts, and students of the craft.
Hosted By
Sadè Sellers, Screenwriter & Producer
What's It About?
Final Draft, the industry standard screenwriting software, wants to do more for writers than simply offer software. That's why each week, the company produces this intimate, interview-based, screenwriting-focused interview. Tune in for in-depth interviews from the top writers of film and television, including award-winners, tentpole movie writers, showrunners, and indie filmmakers alike.
Who's It For?
Movie-obsessed pop-culture and media junkies.
Hosted By
Bill Simmons, Founder, The Ringer
What's It About?
On this The Ringer -produced podcast, Bill Simmons hosts a weekly roundtable discussion of movies The Ringer staff can't stop watching. Expect a fun mix of movies from your childhood, your parents' childhood, and today, while media professionals dive deep into what makes a script sticky, and a film unforgettable, for better or worse!
Who's It For?
Anyone whose friends are tired of them bringing up niche film facts at dinner.
Hosted By
Millie De Chirico, TCM Programmer & Danielle Henderson, Author, and TV Writer
What's It About?
This filmmaking podcast is like hanging out with your two best and funniest film friends! Best friends Millie De Chirico and Danielle Henderson, self-proclaimed film enthusiast and film expert, respectively, host this two-hander recapping and dissecting two films each week of a similar theme.
Who's It For?
Whether or not you attended film school, this filmmaking podcast is for anyone making an indie film today.
Hosted By
A rotating cast of the No Film School team, regularly featuring Writer/Director GG Hawkins
What's It About?
Everyone's favorite online filmmaking resource, No Film School, has produced over 600 episodes of this insanely practical podcast. From interviews with not only above-the-line talent, but below-the-line crew members and post-production specialists as well, to product deep dives with manufacturers, craftsmen, and technicians, this podcast covers everything you need to know about the ins and outs of not only making a career in filmmaking but surviving and thriving as an indie filmmaker as well.
Read More: DIY Filmmaking and Hollywood Politics: An Exclusive Podcast with Ryan Koo of No Film School
Who's It For?
Low-budget filmmakers looking for inspiration and motivation from the pros.
Hosted By
Christ O'Falt, Head of IndieWire's Film & TV Craft Department
What's It About?
Produced by leading industry publication, IndieWire, this interview-based podcast leaves small talk aside and dives deep into exploring a filmmaker's craft and art. For inspiration and motivation, tune in weekly to hear from experts and icons in film and television.
Who's It For?
Cinephiles, aspiring cinephiles, and anyone whose friends fell asleep during Citizen Kane .
Hosted By
Chris and Lee, Australian film enthusiasts and podcasters
What's It About?
Cinephiles and film students unite! For a more casual listening experience, this filmmaking podcast documents two friends on their endeavor to screen every film in the iconic Criterion Collection. Follow along as they recap and dissect the movies we study, appreciate, and emulate as filmmakers today.
Who's It For?
Not just Directors! Any filmmaker looking for insight from today's most celebrated filmmakers.
Hosted By
A revolving door of esteemed Directors and industry professionals
What's It About?
Produced by the Directors Guild of America, this podcast features weekly interviews with Directors from the most popular films out now. Typically recorded after DGA screenings of a Director's film, expect specifics about the Director's approach to their craft, their journey as an artist and human being, and the unique experience of making each film.
Who's It For?
Anyone obsessed with niche movies, 80s movies, or any exhausted filmmaker who just needs a laugh.
Hosted By
Actors, Writers, and Comedians each in their own right: Paul Scheer, June Diane Raphael, and Jason Mantzoukas
What's It About?
Twist- this comedy podcast explores bad movies! Think B-list horror films, TV movies, and more; these three hilarious comedians dissect the good, bad, and the ugly of movies we love to hate and hate to watch. Bad movies get seen too; but how?!
Who's It For?
This is required listening for any and all indie filmmakers!
Hosted By
Indie filmmakers: Alex Darke & Trevor L. Nelson
What's It About?
Let's be honest, fundraising is hard, especially in this economy! Most of us are trying our best to scrape together what we can to tell our stories on shoestring budgets, and this podcast knows it! Come back weekly for no holds barred discussions on the practicalities of indie filmmaking, from budget-saving tips and tricks to distribution insight, make the most of your filmmaking experience, and become the filmmaker whose script makes it to screen!
Who's It For?
Filmmakers, cinematographers, and any fan of Roger Deakins' work.
Hosted By
Cinematographer Roger Deakins and script supervisor James Deakins
What's It About?
If you're into cinematography, it doesn't get any better than this. Roger Deakins — the Roger Deakins — sits down every week with his wife and collaborator James to talk about everything from the film industry, cinematography, and much more. They even answer questions submitted by listeners, so if you've got any burning questions for the Oscar-winning legend himself, this is your chance to get them answered!
---
Read More: 10 Excellent Screenwriting Podcast Episodes
---
CHECK OUT OUR PREPARATION NOTES SO YOU START YOUR STORY OFF ON THE RIGHT TRACK!

Tags